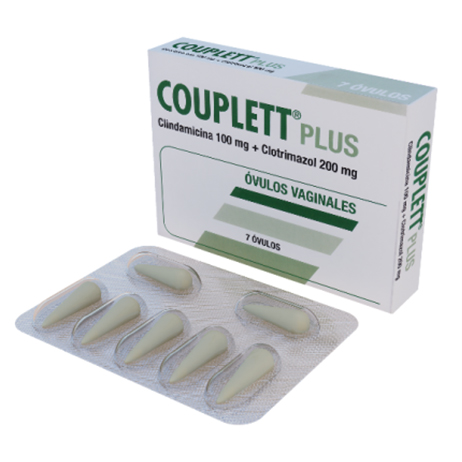 Composition
Each COUPLETT® PLUS suppository contains:
Clotrimazole … 200 mg
Clindamycin …100 mg
Presentation
COUPLETT® PLUS Box with 7 vaginal ovules
Indications
COUPLETT® PLUS Vaginal antibiotic and antimycotic especially indicated for women during pregnancy, in cases of:
Bacterial infections
Fungal infections
Mixed infections
Posology
COUPLETT® PLUS One vaginal suppository every night for seven consecutive days or according to medical criteria.
Contraindications
Hypersensitivity to clindamycin or lincomycin and clotrimazole.
Its use during pregnancy and lactation is at the discretion of the doctor.
Adverse Effects
Clindamycin and clotrimazole are safe substances with minimal side effects, between them and with figures of less than 1%.
Genital: cervicitis, asymptomatic vaginitis, vulvar irritation.
CNS: dizziness, headache, vertigo.
Gastrointestinal: nausea, vomiting, diarrhea.
Dermatological: erythema
Warnings
Development of irritation and/or sensitization could occur, so in these cases treatment should be discontinued and consult your doctor.