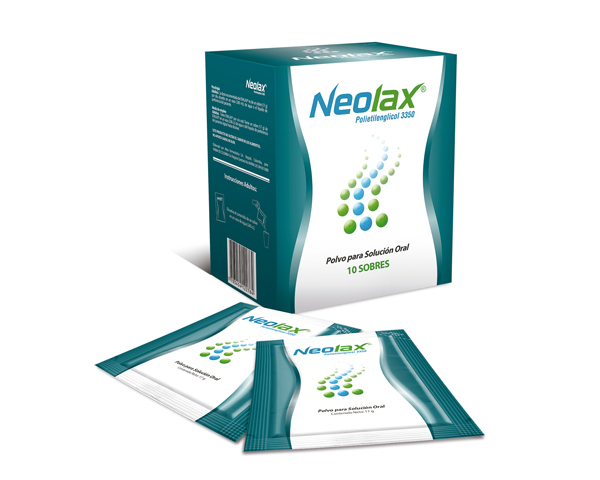 Composition
Each 100g of powder contains:
Polyethylene glycol 3350 100g
Each sachet 17g contains:
Polyethylene glycol 3350 17g
Presentation
250g bottle with measuring spoon.
Box x10 envelopes 17g each.
Indications
Chronic functional constipation, laxative.
Posology
Children: From 1 year of age; 8.50 g/day (1 measuring spoon or 1/2 sachet). Weight dose (1.5 g/kg/day) adjust the dose according to medical criteria.
Adults: 17 g per day (2 measuring spoons or 1 sachet).
How to use
children: Pour 8.5g (1 measuring spoon or 1/2 envelope) of NEOLAX® in half a glass (120ml) of water, juice, bottle or soup. Shake until dissolved.
Adults: Pour 17g (2 measuring spoons or 1 envelope) of NEOLAX® in a glass of water (240ml) of water, juice, soft drink, tea or any liquid of your choice. Shake until dissolved. It dissolves best in liquids at room temperature, even hot, but do not exceed 50 °C. At cold temperatures, below 18 °C, it takes longer to dissolve.
This product does not alter the taste, smell, or color of food.
Warnings and precautions
Patients with constipation should be evaluated with a detailed medical history that includes a complete physical examination to determine associated metabolic, endocrine, and neurological conditions, as well as any concomitant medication they are taking that may contribute to or aggravate constipation. In some patients it will be important to perform a radiological or endoscopic study of the colon, or others as indicated; it should also be used with caution in patients with impaired renal function; discontinue if it causes crampy pain, bloating, or diarrhea.
Interaction with other medications
So far there have been no reports of drug interactions. However, the intake of other medications on a regular basis must be notified to the medical professional before starting treatment with Polyethylene Glycol 3350. Frequent consumption of alcoholic beverages, as well as smoking habits, can affect the action of Polyethylene Glycol 3350.
Adverse effects
Gastrointestinal: Abdominal pain, nausea, vomiting, diarrhea, bloating, cramps, and flatulence. Electrolyte disturbances: hypokalemia, hyponatremia, dehydration. High doses can produce a greater number of evacuations, which can cause decompensation, particularly in the elderly, as a consequence of hydroelectrolytic imbalances. Uncommon: hives.