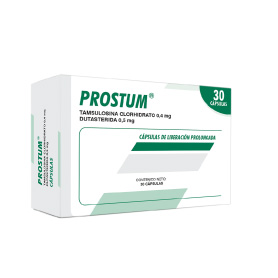 Composition
Dutasteride 0.5 mg / tamsulosin 0.4 mg.
Presentation
Box x 30 prolonged release capsules.
Indications
Treatment of moderate to severe symptoms of benign prostatic hyperplasia (BPH) and reduction of the risk of acute urinary retention (AUR).
Posology
1 tablets a day
Contraindications
Patients with hypersensitivity to dutasteride, other 5 alpha reductase inhibitors, tamsulosin hydrochloride, including drug-induced angioedema.
Patients with a history of orthostatic hypotension.
Patients with severe liver failure.
Women, children and adolescents.
Adverse effects
Many people using this medicine do not have serious side effects. In rare cases, men may experience painful and prolonged erections that last more than 4 hours. If this occurs, stop using this drug and seek medical attention.
Interaction with other medications
Other alpha-blockers (eg, prazosin, terazosin). If you are also taking a drug to treat erectile dysfunction (ED) or pulmonary hypertension (eg, sildenafil, tadalafil), your blood pressure may drop too low, which may cause dizziness or fainting. Other medications can affect the removal of this product from your body, which may affect how this product works. Some examples include azole antifungals (such as itraconazole, ketoconazole), boceprevir, clarithromycin, cobicistat, HIV protease inhibitors (such as lopinavir, ritonavir).
Warnings
Do not administer to children under 18 years of age. This medicine may make you dizzy or drowsy. Do not drive, use machinery, or perform any activity that requires alertness until you are sure you can perform such activities safely. Limit the consumption of alcoholic beverages. Elderly patients may be more sensitive to the side effects of this drug.